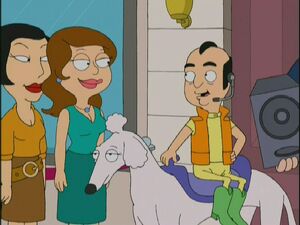 Montague is a dog ridden by Beauregard LaFontaine.
When her old hairdresser quits in "Star Trek", Francine needs a new hairdresser and goes to Curl Up & Dye for Mr. Beauregard but is rejected until Steve's book becomes a success.
Montague also appears in "Irregarding Steve" and has a crowd scene cameo in "100 A.D.", where he was killed in a bus crash along with his owner. He returns in the episode recap in "Son of Stan".
Ad blocker interference detected!
Wikia is a free-to-use site that makes money from advertising. We have a modified experience for viewers using ad blockers

Wikia is not accessible if you've made further modifications. Remove the custom ad blocker rule(s) and the page will load as expected.