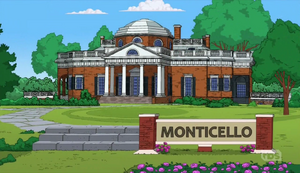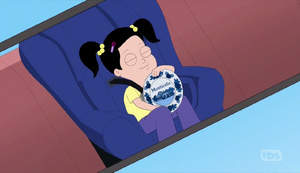 Monticello was the plantation of Thomas Jefferson, the third President of the United States, who began designing and building Monticello at age 26 after inheriting land from his father. Located just outside Charlottesville, Virginia, the plantation was originally 5,000 acres, with Jefferson using slaves for extensive cultivation of tobacco and mixed crops. At Jefferson's direction, he was buried on the grounds, in an area now designated as the Monticello Cemetery.
Hayley and Stan visit several Presidential historical sites in flashback to celebrate Presidents Day in "Garfield and Friends". Although Hayley is always an unwilling participant at first, being kept on a leash thought her visits which leads to her being entangled in a tree on a visit to the grounds, she does warm up by the end of each trip, as she is shown happily sleeping with a collectors plate from her visit to Monticello.
Ad blocker interference detected!
Wikia is a free-to-use site that makes money from advertising. We have a modified experience for viewers using ad blockers

Wikia is not accessible if you've made further modifications. Remove the custom ad blocker rule(s) and the page will load as expected.