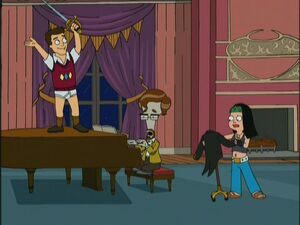 "Moonlight Becomes You", composed by Jimmy Van Heusen with lyrics by Johnny Burke. The song was written for the Paramount Pictures release Road to Morocco and published in 1942 in connection with the film. Vic Schoen wrote the arrangement.
The song has been recorded many times, becoming a standard, but a recording by Bing Crosby is the best known.
Roger sings "Moonlight Becomes You" while being held captive by Ethan in "Iced, Iced Babies".
Lyrics
Moonlight becomes you, I'm thrilled at the sight
And I could get so romantic tonight...
(Breaks down crying)
Ad blocker interference detected!
Wikia is a free-to-use site that makes money from advertising. We have a modified experience for viewers using ad blockers

Wikia is not accessible if you've made further modifications. Remove the custom ad blocker rule(s) and the page will load as expected.