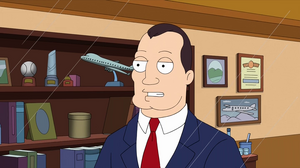 Mr. Brenner is a manager of BICI.. He hires Hayley despite her lack of skills when she needs a job in "My Affair Lady", although he pays her minimum wage which she is happy to accept.
When BICI slips to #2 in sales, he organizes an all-expenses paid company retreat to Belize, but later finds out that Roger replaced his motivational speaker with a different persona of his. When he realizes that the expenses, including $80,000 in hams for Roger were not a good business strategy, he fires half of the employees, including Hayley.
Mr. Brenner is voiced by Scott Parkin.
Ad blocker interference detected!
Wikia is a free-to-use site that makes money from advertising. We have a modified experience for viewers using ad blockers

Wikia is not accessible if you've made further modifications. Remove the custom ad blocker rule(s) and the page will load as expected.