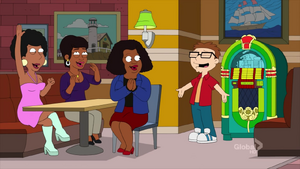 "My Body" is a single from the album Levert.Sweat.Gill by R&B group LSG. The album includes contributions from guest producers including Sean "Puffy" Combs and Jermaine Dupri. "My Body" is contributed by artist Keith Sweat.
Steve goes off to find a jukebox at Burger Joint in "Ricky Spanish", hoping they have something by Keith Sweat. As Roger and Daniel plot a heist intending to frame Steve, Steve sings along to "My Body" to a group of enthusiastic ladies.
Lyrics
My body all over your body baby
Your body all over my body babe
Ad blocker interference detected!
Wikia is a free-to-use site that makes money from advertising. We have a modified experience for viewers using ad blockers

Wikia is not accessible if you've made further modifications. Remove the custom ad blocker rule(s) and the page will load as expected.