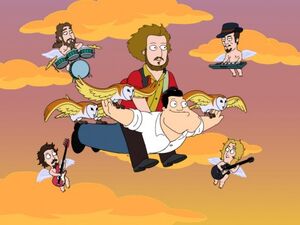 My Morning Jacket is an American rock band. The band comprises Jim James (singer-songwriter, guitarist), Tom "Two-Tone Tommy" Blankenship (bassist), Patrick Hallahan (drummer), Carl Broemel (guitarist, pedal steel guitarist, saxophonist, vocalist), and Bo Koster (keyboardist, percussionist, vocalist).
Hayley and Klaus head out on the road for fifteen weeks in "Choosy Wives Choose Smith" to follow My Morning Jacket on tour.
The band appears and voices themselves in "My Morning Straitjacket". Live action footage of the band follows during the end credits.
Ad blocker interference detected!
Wikia is a free-to-use site that makes money from advertising. We have a modified experience for viewers using ad blockers

Wikia is not accessible if you've made further modifications. Remove the custom ad blocker rule(s) and the page will load as expected.