My Morning Straitjacket
Stan becomes obsessed with the band My Morning Jacket and decides to become a groupie

Season: 6 Episode: 7
Total Episode Count: 85
Prod. no.: 4AJN22
First Aired: November 22, 2009

Guest Starring: My Morning Jacket, Zach Galifianakis
Featuring: Stan, Francine, Hayley, Roger
Also Appearing: Steve, Klaus, Norman, Lindsay Coolidge, Trudy Lawrence, Jessica, Beth, Jackson, Dick, Avery Bullock, Quackenbush, Daniella, Magheeta, Johnny 5, My Morning Jacket, Dugan, Dick Van Patten
Director: Chris Bennett

Assistant Director
:
Tomi Yamaguchi
Writers
:
Mike Barker
Storyboarders
:
Rudi Berden
,
Eric Fredrickson
Roger's Disguise
: Lilly Thomlin's Ernestine from "
Widowmaker
"
Plot
: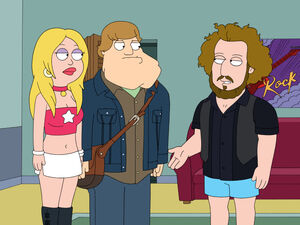 Stan is angry about virtually everything because he never learned to feel. Upset that Hayley is wasting her time at a rock concert, Stan goes to forcibly bring her back. When he is exposed to the music of the band "My Morning Jacket" he becomes enthralled and begins to have feelings for the first time. He begins to ignore his job and everything else in his life. Stan decides to leave everything behind to follow My Morning Jacket on tour, taking Roger disguised as 'Abbey Road' along. Passing themselves off as reporters for the Rolling Stone, they meet the band but not frontman Jim James. They manage to get themselves kicked off the tour bus when Stan commits a faux pas. Undeterred, Stan tries to get into the concert but fails. Francine shows up and using tricks she learned from her groupie days manages to get Stan in to see Jim. After an uncomfortable introduction, Jim sets Stan straight that his family should be more important than their music.

Ad blocker interference detected!
Wikia is a free-to-use site that makes money from advertising. We have a modified experience for viewers using ad blockers

Wikia is not accessible if you've made further modifications. Remove the custom ad blocker rule(s) and the page will load as expected.