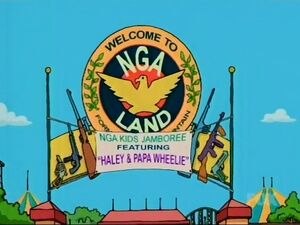 NGA Land is the theme park run by the National Gun Association (a parody of the National Rifle Association). In "Stannie Get Your Gun", Stan and Hayley go there and end up being mascots for the park. The park's mascot is Bobby the Bullet, who is rivals with A.C.L. Lou.
Ad blocker interference detected!
Wikia is a free-to-use site that makes money from advertising. We have a modified experience for viewers using ad blockers

Wikia is not accessible if you've made further modifications. Remove the custom ad blocker rule(s) and the page will load as expected.