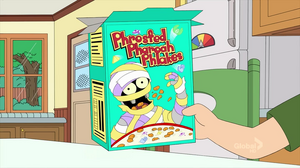 The title refers to the song "Take it to the Limit" by The Eagles.
The song played during the montage of Roger moments is an instrumental of the song "Suicide is Painless", which was the theme song to M*A*S*H. The montage of past scenes is intended to be reminiscent of the final episode of M*A*S*H, "Goodbye, Farewell and Amen".
Jeff's "Phrosted Pharaoh Phlakes" is a parody of such General Mills cereals as "Count Chocula", "Frankenberry". "Boo Berry" and the discontinued, but occasionally made for limited-release "Fruit Brute" and "Fruity Yummy Mummy".
Ad blocker interference detected!
Wikia is a free-to-use site that makes money from advertising. We have a modified experience for viewers using ad blockers

Wikia is not accessible if you've made further modifications. Remove the custom ad blocker rule(s) and the page will load as expected.