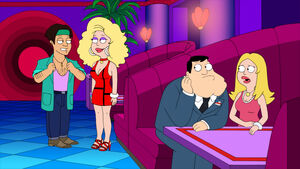 Nathan Fillion (born March 27, 1971) is a Canadian actor, currently starring as Richard Castle on the ABC series Castle. He is also known for his portrayal of the lead role of Captain Malcolm Reynolds in the television series Firefly and its film continuation Serenity.
Nathan Fillion provides the voice of Joel Larson in "The Kidney Stays in the Picture" and has another voice credit in "Stan Knows Best".
Ad blocker interference detected!
Wikia is a free-to-use site that makes money from advertising. We have a modified experience for viewers using ad blockers

Wikia is not accessible if you've made further modifications. Remove the custom ad blocker rule(s) and the page will load as expected.