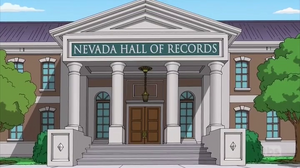 Nevada Hall of Records is where Steve discovers Tetradual Inc. is responsible for water pollution in Nevada in "Kiss Kiss, Cam Cam".
When a woman arrives to plead with Roger to return to Nevada to come to their aid, he is forced to explain to Steve about his persona of Burt Jarvis, who successfully ran for office to clean up the water, but dumped the job after he discovered it didn't include free drinks at Nevada buffets. Steve convinces him to return, and locates the source of the pollution at the Nevada Hall of Records in a newspaper story.
Ad blocker interference detected!
Wikia is a free-to-use site that makes money from advertising. We have a modified experience for viewers using ad blockers

Wikia is not accessible if you've made further modifications. Remove the custom ad blocker rule(s) and the page will load as expected.