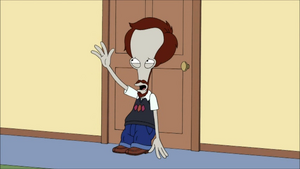 "Never Gonna Let You Go" is a pop song from 1983 credited to Brazilian musician and bandleader Sérgio Mendes and sung by Joe Pizzulo and Leza Miller. Songwriters Cynthia Weil (words) and Barry Mann (music) composed the song, which appears on Mendes' 1983 self-titled album.
Roger sings "Never Gonna Let You Go" outside of Steve Smith's room, unaware that Steve has decided to run away after Roger got Principal Lewis fired and evicted in "A Ward Show".
Lyrics
Roger: I'm never gonna let you go
I'm gonna hold you in my arms forever
Gonna try to make up for the times
I hurt you so
Steve: Goodbye room...forever
Roger:Gonna hold your body close to mine
Steve: [Grabs a string of condoms] I'll need these on the road.
Roger: From this day on we're gonna be together
Steve: God willing, I'll have time to slide them on my attackers.
Roger: Oh, I swear this time
I'm never gonna let you go
Ad blocker interference detected!
Wikia is a free-to-use site that makes money from advertising. We have a modified experience for viewers using ad blockers

Wikia is not accessible if you've made further modifications. Remove the custom ad blocker rule(s) and the page will load as expected.