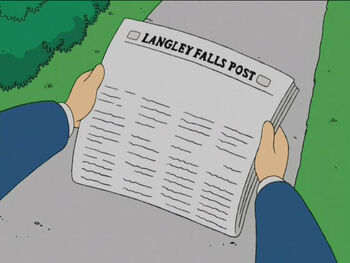 The
Newspaper Headline
is a recurring gag featured in the opening sequence of each episode of the first four seasons. As Stan is singing "Good Morning, U.S.A." he heads out his front door and picks up the newspaper waiting on his front porch. The front page headline is different for each episode. These headlines are satirical in nature, usually directed at the United States Government, the media, or current affairs.
As of season five, the show got a new opening sequence and the Newspaper Headlines gag was replaced by Roger's Disguises.
In the Family Guy episode "Foreign Affairs", a headline lampoons American Dad! with "Newspaper Gag Fails to Live Up to Expectations."
Headlines
Season 1
Season 2
Season 3
Season 4
Ad blocker interference detected!
Wikia is a free-to-use site that makes money from advertising. We have a modified experience for viewers using ad blockers

Wikia is not accessible if you've made further modifications. Remove the custom ad blocker rule(s) and the page will load as expected.