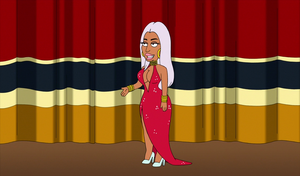 Onika Tanya Maraj (born December 8, 1982), better known by her stage name Nicki Minaj, is a rapper and singer-songwriter from Trinidad and Tobago.
Nicki is kidnapped by the CIA and forced to work as host of the 70th CIA Awards show in "Casino Normale", although she notes that the longer the drugs have to take effect, the more she's beginning to enjoy herself. Later, Deputy Director Avery Bullock believes he has taken Nicki back to CIA Headquarters for hot, squeaky sex, although it appears he only had relations with a pile of balloons.
Nicki is voiced by Daniele Gaither.
Ad blocker interference detected!
Wikia is a free-to-use site that makes money from advertising. We have a modified experience for viewers using ad blockers

Wikia is not accessible if you've made further modifications. Remove the custom ad blocker rule(s) and the page will load as expected.