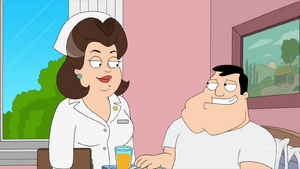 Nurse Jocelyn is the head nurse at the Timely Sunset Retirement Home in "Stan-Dan Deliver".
After going over their retirement assets, Stan decides to take Jeff's advice and shop various nursing homes to find one that suits their needs. At the Timely Sunset, Stan decides to spend the night to try it out extensively, but when the family returns for him the next morning, they find he has been doped up on medication and Nurse Jocelyn refuses to allow him to leave and the family is kicked out.
Hayley tries to bring in an online paralegal, but Jocelyn reports that all Stan has to do is sign himself out. But when he does, Jocelyn announces that he has signed over all of his possessions to her. He reveals that he faked taking the medication in order to test the facility using his CIA skills. But when Jocelyn reveals that he actually did sign over his belongings, he tries to beg to get them back without luck, but is saved when Klaus, who had been practicing archery earlier in the episode to give Stan and Francine Viking funerals, manages to set the papers on fire with a flaming arrow.
Nurse Jocelyn is voiced by Betsy Brandt.
Ad blocker interference detected!
Wikia is a free-to-use site that makes money from advertising. We have a modified experience for viewers using ad blockers

Wikia is not accessible if you've made further modifications. Remove the custom ad blocker rule(s) and the page will load as expected.