Roger: I'm not ready to die. Not before Shatner!
---
Stan: [after finding the photo of Roger in the paper] How did this happen?!
Roger: I have no idea. I leave the house in disguise, but six Rob Roys later, things happen that I can't be responsible for. Like buying this puzzle. Why the hell did I buy this puzzle?! [begins tearing the nearly complete puzzle apart] I hate puppies! Get out of that tea cup! That cup is for tea!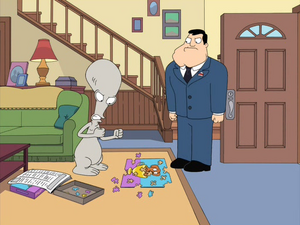 ---
Bullock: Dick, I believe you're up.
Dick: I don't have anything for show and tell. I just found out I have liver cancer.
Bullock: I'm giving you a zero for the day.
---
Bullock: I need a new team leader.
Jackson: Sir, I'm your man. I will not rest until the alien and all his accomplices are brought to just...
Stan: He told me he hates you.
Bullock: What?! Jackson, is this true?
Jackson: Yes.
Bullock: Get out of my sight! Smith, how do you feel about me?
Stan: You're okay, I guess.
Bullock: Good, then you're the man for this job.
---
Ad blocker interference detected!
Wikia is a free-to-use site that makes money from advertising. We have a modified experience for viewers using ad blockers

Wikia is not accessible if you've made further modifications. Remove the custom ad blocker rule(s) and the page will load as expected.