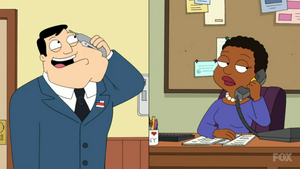 Olivia is the clerk at the Langley Falls Supreme Court whom Stan calls every year to serve jury duty in "The People vs. Martin Sugar". She only tiredly groans when he makes the same joke year after year.
Olivia is voiced by Anna Maria Horsford.
Ad blocker interference detected!
Wikia is a free-to-use site that makes money from advertising. We have a modified experience for viewers using ad blockers

Wikia is not accessible if you've made further modifications. Remove the custom ad blocker rule(s) and the page will load as expected.