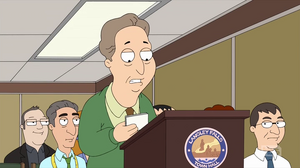 Olman "Old Man" Hansen is the owner of the former Hansen's store.
When he is forced to hold a "going out of business" sale when his property is slated to be torn down for a new football arena in "Roots", Stan gleefully tries to sabotage his plea before the Langley Falls town council, referring to him as "old man" Hansen, despite Hansen's objection that he is only 43 and went to school together, with his real name being of Swedish origin.
But when Stan discovers that the arena also means the destruction of a tree he had come to adopt as a father figure, he switches sides to save it. After Stan's protest sparks hope that he may save his store by climbing onto the roof, Hansen turns to see his store being knocked down.
Ad blocker interference detected!
Wikia is a free-to-use site that makes money from advertising. We have a modified experience for viewers using ad blockers

Wikia is not accessible if you've made further modifications. Remove the custom ad blocker rule(s) and the page will load as expected.