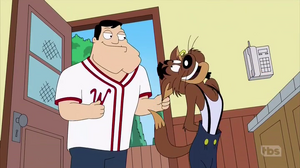 "Opposites Attract" is a song recorded by Paula Abdul and the fictional character of MC Skat Kat.
In "Kiss Kiss, Cam Cam", Stan tries to prove to Klaus that his belief that "opposites attract" is correct by bringing in MC Skat Kat to sing with him until Klaus cuts him off when he remembers the song.
Lyrics
Stan: Baby, seems we never, ever agree
You like the movies, and I like TV
Together: I take it serious...
Klaus: Right, got it.
Ad blocker interference detected!
Wikia is a free-to-use site that makes money from advertising. We have a modified experience for viewers using ad blockers

Wikia is not accessible if you've made further modifications. Remove the custom ad blocker rule(s) and the page will load as expected.