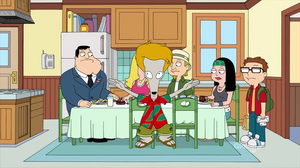 Orphée aux enfers (Orpheus in Hades) is an opéra bouffon, or opéra féerie in its revised version, by Jacques Offenbach. The French text was written by Ludovic Halévy and later revised by Hector-Jonathan Crémieux. The "Infernal Galop" from Act II, Scene 2, is famous outside classical circles as the music for the "Can-can".
Roger expresses his reluctance to join in the family's participation in Lent by performing the "Infernal Galop" in "Finger Lenting Good" by chanting "no" to the music beat.
Ad blocker interference detected!
Wikia is a free-to-use site that makes money from advertising. We have a modified experience for viewers using ad blockers

Wikia is not accessible if you've made further modifications. Remove the custom ad blocker rule(s) and the page will load as expected.