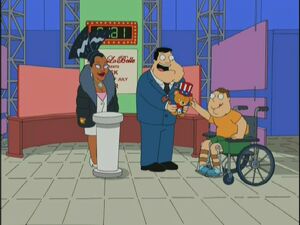 Oscar is a handicapped boy that appears on Patti LaBelle's home shopping show in "American Dream Factory". Stan and Patti try to encourage him to walk by holding Stan's "Cele-Bear-tions" Jack the 4th of July Bear teddy bear just out of Oscar's reach. When he falls out of his wheelchair, Patti makes it into a near miracle anyways.
Ad blocker interference detected!
Wikia is a free-to-use site that makes money from advertising. We have a modified experience for viewers using ad blockers

Wikia is not accessible if you've made further modifications. Remove the custom ad blocker rule(s) and the page will load as expected.