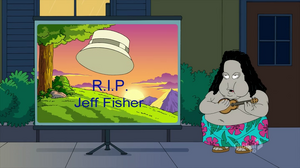 "Over the Rainbow", often referred to as "Somewhere Over the Rainbow". is an Academy Award-winning ballad song with music by Harold Arlen and lyrics by E.Y. Harburg. It was written for the 1939 film, The Wizard of Oz, and was sung by actress Judy Garland in her starring role as Dorothy Gale.
Klaus references the Israel Kamakawiwo'ole version of "Over the Rainbow" during a rant that breaks the fourth wall in "Can I Be Frank (With You)".
Roger sings "Over the Rainbow" as a Hawaiian ballad in order for Hayley to accept Jeff Fischer's loss and perform as a line judge in His and Stan's badminton match in "Spelling Bee My Baby". Roger's figure and hair is a parody of Hawaiian singer Israel Kamakawiwo'ole.
Lyrics
Oooooo...
Somewhere over the rainbow
Way up high
There's a land that I heard of
Once in a lullaby
Ad blocker interference detected!
Wikia is a free-to-use site that makes money from advertising. We have a modified experience for viewers using ad blockers

Wikia is not accessible if you've made further modifications. Remove the custom ad blocker rule(s) and the page will load as expected.