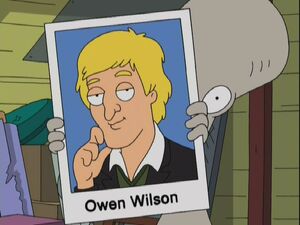 Owen Cunningham Wilson is an American actor, comedian and writer. Wilson got his big break with Shanghai Noon, starring opposite Hong Kong action star Jackie Chan. Wilson's other films include Wedding Crashers, Starsky & Hutch, Night at the Museum and the sequel Night at the Museum 2: Battle of the Smithsonian.
Owen Wilson's is one of the celebrity noses that Roger tries out in "Four Little Words".
Stan is mistaken for Owen in "Chimdale" when he covers his bald head with Roger's combination David Spade/Ellen DeGeneres wig.
Ad blocker interference detected!
Wikia is a free-to-use site that makes money from advertising. We have a modified experience for viewers using ad blockers

Wikia is not accessible if you've made further modifications. Remove the custom ad blocker rule(s) and the page will load as expected.