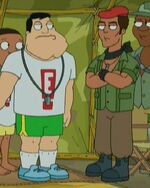 Ozomatli is the leader of the Bowango rebels that destroy an African village, forcing the members into a refugee camp that Stan decides to turn into a summer camp in "Camp Refoogee". When Stan finds out, he moons their camp prompting them to raid the camp and capture Makeva, a girl that was attracted to Steve. She becomes becomes the prize in Stan's Camp Olympics. When Steve beats Ozomatli in a race to decide the winner of the Olympics, Makeva surprises him by romancing Ozomatli, saying she is just a crazy chick. Ozomatli has a habit of cutting the arms off of people that fail him.
Ad blocker interference detected!
Wikia is a free-to-use site that makes money from advertising. We have a modified experience for viewers using ad blockers

Wikia is not accessible if you've made further modifications. Remove the custom ad blocker rule(s) and the page will load as expected.