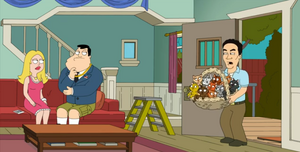 P.D. Wang is one of the actors on Francine's FOX sitcom titled White Rice in "White Rice". When he object's to Stan's interruption of the show to apologize to Francine, Stan shoots him in the kneecap.
P. D. Wang is voiced by actor Roger Fan.
Ad blocker interference detected!
Wikia is a free-to-use site that makes money from advertising. We have a modified experience for viewers using ad blockers

Wikia is not accessible if you've made further modifications. Remove the custom ad blocker rule(s) and the page will load as expected.