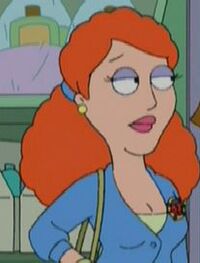 Paget Brewster (Born March 10, 1969) is an American actress, known for her recurring role as Kathy, Joey's girlfriend in the fourth season of Friends. She appeared in Andy Richter Controls The Universe and in the Showtime series Huff. She is also known for her performance on the CBS crime drama Criminal Minds.
Paget provides assorted voices in American Dad!, including Casey, Thundercat, Mia and Michelle.
Ad blocker interference detected!
Wikia is a free-to-use site that makes money from advertising. We have a modified experience for viewers using ad blockers

Wikia is not accessible if you've made further modifications. Remove the custom ad blocker rule(s) and the page will load as expected.