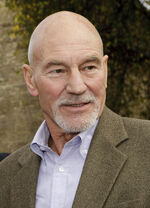 Sir Patrick Stewart (born 13 July 1940) is an English film, television and stage actor. He has had a distinguished career in theater and television for around half a century. He is most widely known for his television and film roles, as Captain Jean-Luc Picard in Star Trek: The Next Generation, and Professor Charles Xavier in the X-Men films. Patrick Stewart was knighted in the 2010 New Year's Honours list by Queen Elizabeth II, for his services to drama.
Sir Patrick is the voice actor for Deputy Director Avery Bullock. He also plays himself on "Blood Crieth Unto Heaven" in live action to introduce the episode which is presented as a "lost" play featuring American Dad!.
He once joked that the end of the series would be the CIA realizing his character is an Englishman. [1]
He is the most prolific guest star to appear on American Dad!.
Ad blocker interference detected!
Wikia is a free-to-use site that makes money from advertising. We have a modified experience for viewers using ad blockers

Wikia is not accessible if you've made further modifications. Remove the custom ad blocker rule(s) and the page will load as expected.