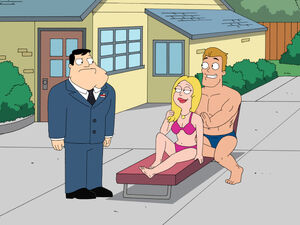 Patrick Joseph Wilson (born July 3, 1973) is an American actor and singer. Wilson won critical acclaim for his performance in Mike Nichols' 2003 drama HBO mini-series Angels in America. He has also appeared in The Alamo, the film adaption of the Broadway play The Phantom of the Opera, Running With Scissors and Watchmen.
Patrick provides the voice of Jim in "Wife Insurance".
Ad blocker interference detected!
Wikia is a free-to-use site that makes money from advertising. We have a modified experience for viewers using ad blockers

Wikia is not accessible if you've made further modifications. Remove the custom ad blocker rule(s) and the page will load as expected.