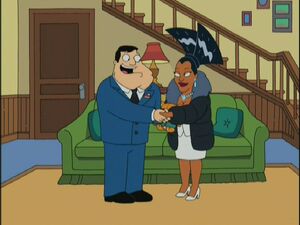 Patricia Louise Holte, best known by her stage name of Patti LaBelle, is an American R&B and soul singer-songwriter and actress. She fronted two groups, Patti LaBelle and the Bluebelles, which received minor success on the pop charts in the 1960s, and Labelle, which received acclaim and a mainstream breakthrough in 1974 with their song "Lady Marmalade". She went on to have a solo recording career, earning another U.S. #1 single in 1986 with "On My Own," a duet with Michael McDonald.
She is renowned for her passionate stage performances, wide vocal range and distinctive high-octave belting. Her biography, Don't Block the Blessings, remained at the top of the The New York Times best-seller list for several weeks.
Patti appears in "American Dream Factory" as a hero of Stan's and eager to sell his 4th of July "Cele-Bear-tions" teddy bears on her home shopping show.
Patty is voiced by Niecy Nash.
Ad blocker interference detected!
Wikia is a free-to-use site that makes money from advertising. We have a modified experience for viewers using ad blockers

Wikia is not accessible if you've made further modifications. Remove the custom ad blocker rule(s) and the page will load as expected.