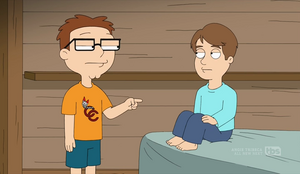 Paul is a 10 year-old 'Little Apache' camper at Camp Campawanda in the episode of the same name.
When Steve finds that Snot has become a counselor-in-training and refuses to join in on Steve's pranks, he tries to enlist the younger campers instead. But when he returns from scouting out the girl's cabins for a panty raid, he finds they refuse to join him, observing him to be a nerd at age 14 when they consider themselves cooler, with Paul noting that he has already kissed three girls that summer. Steve is forced to recruit even younger campers for his pranks, one of which notes that Paul is "plowing" his way through the girls of cabin seven.
He is voiced by Collin Dean.
Ad blocker interference detected!
Wikia is a free-to-use site that makes money from advertising. We have a modified experience for viewers using ad blockers

Wikia is not accessible if you've made further modifications. Remove the custom ad blocker rule(s) and the page will load as expected.