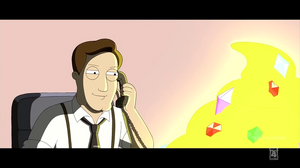 Paul Reubens (born Paul Rubenfeld; August 27, 1952) is an American actor, writer, film producer, and comedian, best known for his character Pee-wee Herman. In July 1991, Reubens was arrested for indecent exposure in an adult theater in Sarasota, Florida. The arrest set off a chain reaction of national media attention that changed the general public's view of Reubens and Pee-wee.
Paul provides assorted voices, including Wyatt Borden, a notorious chemical dumper who pledges to help Vincent Edmonds in his campaign for attorney general in The Golden Turd saga in "Blagsnarst: A Love Story".
Ad blocker interference detected!
Wikia is a free-to-use site that makes money from advertising. We have a modified experience for viewers using ad blockers

Wikia is not accessible if you've made further modifications. Remove the custom ad blocker rule(s) and the page will load as expected.