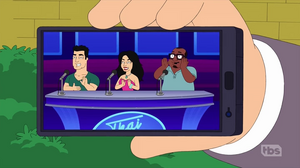 Paula Julie Abdul (born June 19, 1962) is an American singer, dancer, choreographer, and reality TV personality, and until 2009, served as a judge on American Idol.
Paula appears as one of the judges of Thai Idol in "The Bitchin' Race" where the team of Roger and Johnny Bananas are applauded for singing "Ghostbusters".
Ad blocker interference detected!
Wikia is a free-to-use site that makes money from advertising. We have a modified experience for viewers using ad blockers

Wikia is not accessible if you've made further modifications. Remove the custom ad blocker rule(s) and the page will load as expected.