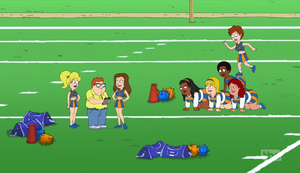 Peter is a student at Pearl Bailey High School, appearing as an occasional background character.
In "Garfield and Friends", after they both join the school newspaper to get out of sports, Steve envies him for getting the plum assignment of covering the cheerleaders.
He can be seen in the talent show audience in "The Talented Mr. Dingleberry".
Ad blocker interference detected!
Wikia is a free-to-use site that makes money from advertising. We have a modified experience for viewers using ad blockers

Wikia is not accessible if you've made further modifications. Remove the custom ad blocker rule(s) and the page will load as expected.