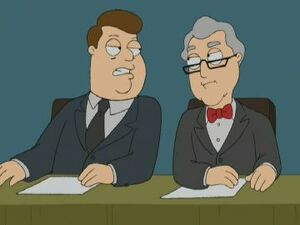 Peter MacKenzie (born January 19, 1961) is an American actor. His first major role was on the FOX show Herman's Head.
His many voice credits for American Dad! include Chief Shop-a-holic, Mr. Chimdale and the new church pastor in "Daesong Heavy Industries".
Ad blocker interference detected!
Wikia is a free-to-use site that makes money from advertising. We have a modified experience for viewers using ad blockers

Wikia is not accessible if you've made further modifications. Remove the custom ad blocker rule(s) and the page will load as expected.