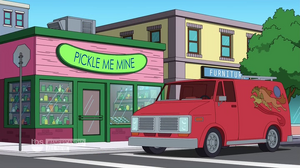 Pickle Me Mine is a shop they allows its patron to create their own pickles.
In "LGBSteve", the Langley Hot Broads have a pickle party at the shop, creating their own pickles. Steve, posing as a lesbian to allow Hayley to join the team when they want his skating abilities has to watch Hayley shrink a large cucumber into a little pickle.
Ad blocker interference detected!
Wikia is a free-to-use site that makes money from advertising. We have a modified experience for viewers using ad blockers

Wikia is not accessible if you've made further modifications. Remove the custom ad blocker rule(s) and the page will load as expected.