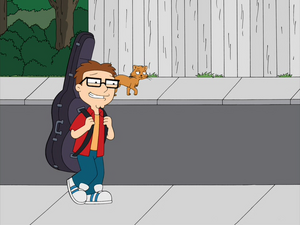 "Playing the Cello" is sung by Steve Smith while on his way to cello practice in "Choosy Wives Choose Smith" when he discovers that Lindsay Coolidge has an attraction to cello players.
Lyrics
Playing the cello like Yo-Yo Ma
Soon I'll be unsnapping Lindsay Coolidge's bra...
Ad blocker interference detected!
Wikia is a free-to-use site that makes money from advertising. We have a modified experience for viewers using ad blockers

Wikia is not accessible if you've made further modifications. Remove the custom ad blocker rule(s) and the page will load as expected.