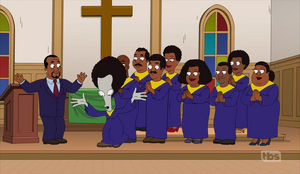 "Power" is sung by the choir at a predominately African-American church in "Daesong Heavy Industries". As the family attends Easter services at the First Episcopalian Church, Hayley questions why Roger isn't forced to attend as well. Francine explains that Roger goes to a different church before the scene cuts away to Roger participating in the choir as "Brother Jenkins."
Lyrics
Reverend: Got to have...
Choir: Power
Reverend: All you need is...
Choir: Power
Roger: [Emerges from the choir and starts dancing]
Whoa, whoa, whoaaaa
Reverend: Whoa, Brother Jenkins is feeling it
Roger: Jesus, take my feet!
Ad blocker interference detected!
Wikia is a free-to-use site that makes money from advertising. We have a modified experience for viewers using ad blockers

Wikia is not accessible if you've made further modifications. Remove the custom ad blocker rule(s) and the page will load as expected.