Not to be confused with Pricey's Steakhouse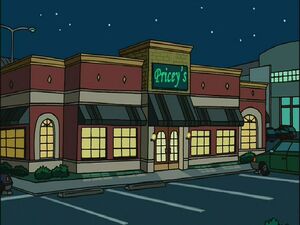 Pricey's is an expensive restaurant that Francine takes the family to when she succeeds in real estate in "Threat Levels". Stan intended to split the bill with her but is annoyed that she pays it entirely on her own while visiting the restroom.
Ad blocker interference detected!
Wikia is a free-to-use site that makes money from advertising. We have a modified experience for viewers using ad blockers

Wikia is not accessible if you've made further modifications. Remove the custom ad blocker rule(s) and the page will load as expected.