Not to be confused with Pricey's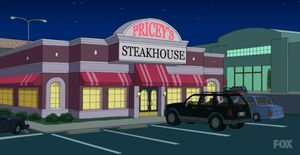 Pricey's Steakhouse is where the Smith family holds Roger's roast to celebrate his 1601st birthday in "Great Space Roaster". The family gives Roger a brutal roasting. All seems well at first, but when he removes his glasses they see he has been crying and he vows to pull his life together.
Ad blocker interference detected!
Wikia is a free-to-use site that makes money from advertising. We have a modified experience for viewers using ad blockers

Wikia is not accessible if you've made further modifications. Remove the custom ad blocker rule(s) and the page will load as expected.