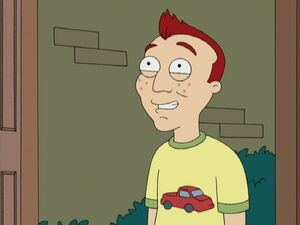 Randy is a pedophile that attempts to kidnap Steve, Snot, Barry and Toshi in "42-Year-Old Virgin".
When his CIA buddies find out Stan is a killing virgin, Stan passes on several candidates including Randy, a pedophile that announces he just moved into the neighborhood. Despite Randy describing in detail his crimes while an employee at Wet, Young & Wild water park, Stan is preoccupied and pays no attention. When Steve and his friends are befriended by Randy, he sought to resume his old ways by kidnapping Steve and his friends. When Stan finds out Steve has been taken by pedophile Randy to his secret hideout behind the waterfall at Wet, Young & Wild water park, they rush in to save the boys. When Randy brags that he'll get off due to his mother's money and a good lawyer, Stan tries to shoot Randy and ends up killing Bad Larry, getting his very first kill.
Randy has a cameo in "100 A.D.".
He is voiced by Erik Durbin.