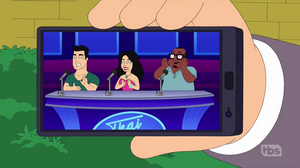 Randall Darius "Randy" Jackson (born June 23, 1956) is an American bassist, singer, record producer, music manager, and former A&R executive. He is best known as a judge on American Idol and Executive Producer for MTV's America's Best Dance Crew. Jackson has won Grammy Award as a producer. He left American Idol after the twelfth season, being the final original judge to be on the show.
Randy appears as one of the judges of Thai Idol in "The Bitchin' Race" where the team of Roger and Johnny Bananas are applauded for singing "Ghostbusters".
Ad blocker interference detected!
Wikia is a free-to-use site that makes money from advertising. We have a modified experience for viewers using ad blockers

Wikia is not accessible if you've made further modifications. Remove the custom ad blocker rule(s) and the page will load as expected.