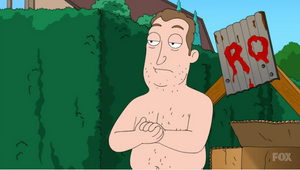 Randall Rudy "Randy" Quaid (born October 1, 1950) is an American actor perhaps best known for his role as Cousin Eddie in the National Lampoon's Vacation movies, as well as his numerous supporting roles in films such as The Last Detail, Independence Day, Kingpin and Brokeback Mountain. He has won a Golden Globe Award, and has been nominated for an Academy Award, an Emmy Award and a BAFTA Award.
In "Jenny Fromdabloc", Steve and his friends visit Dennis Quaid's house where then encounter Dennis' younger brother Randy Quaid panhandling outside. Dennis emerges from house to chase away Randy. Toshi claims he later went back to feed Randy but he was dead.
Ad blocker interference detected!
Wikia is a free-to-use site that makes money from advertising. We have a modified experience for viewers using ad blockers

Wikia is not accessible if you've made further modifications. Remove the custom ad blocker rule(s) and the page will load as expected.