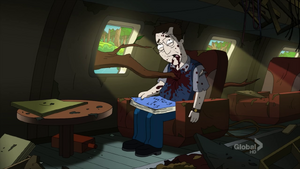 Randy Scott Knobson is the supposed writer of the Fast and the Furious film franchise.
When Steve and his friends find a crashed airplane in "American Stepdad", they find a copy of the script to Fast and the Furious 7 in the hands of the writer Randy Scott Knobson. At first they are excited by the action but soon find it is filled with homosexual sex scenes and themes. The boys are determined that the film should be made but remove the sex scenes. When they take it to Universal Pictures, the removal of the sex scenes cast doubt on the script's authenticity until Barry produces the remaining material and the film is made.
Ad blocker interference detected!
Wikia is a free-to-use site that makes money from advertising. We have a modified experience for viewers using ad blockers

Wikia is not accessible if you've made further modifications. Remove the custom ad blocker rule(s) and the page will load as expected.