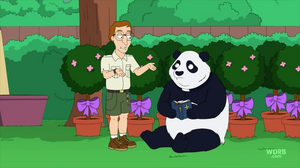 The Reverend Ping Ping is a giant panda that Roger's rich persona of Max Jets hires to officiate his wedding to Gina, a gold-digging waitress in "Max Jets". After the ceremony, Max jokes about not realizing just how thick Reverend Ping Ping's accent would be. After Max drops over dead while eating his piece of the wedding cake, Reverend Ping Ping presides over his funeral, but eats part of the Bible.
Ad blocker interference detected!
Wikia is a free-to-use site that makes money from advertising. We have a modified experience for viewers using ad blockers

Wikia is not accessible if you've made further modifications. Remove the custom ad blocker rule(s) and the page will load as expected.