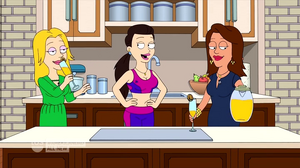 Rhonda Hughart is a guest on the show Morning Mimosa. In "Morning Mimosa" she is invited to appear on the show to promote her diet, unaware that the audience enjoys brutally attacking the guests. When host Suze demands to know how many mimosas can be drank while on the diet, she nervously answers with only one, causing the audience to pelt her with tacos from Taco King in front of a "Wall of Shame."
Ad blocker interference detected!
Wikia is a free-to-use site that makes money from advertising. We have a modified experience for viewers using ad blockers

Wikia is not accessible if you've made further modifications. Remove the custom ad blocker rule(s) and the page will load as expected.