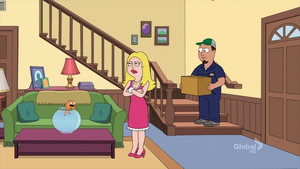 Ricco is one of the movers that Klaus hires when he plans to take over Roger's attic space when Stan tries to turn Roger over to an alien hunter in "The Scarlett Getter". Klaus chastises Ricco, noting he doesn't trust the way Ricco is carrying a box with one hand. Ricco obligingly carries the box in both hands.
Ad blocker interference detected!
Wikia is a free-to-use site that makes money from advertising. We have a modified experience for viewers using ad blockers

Wikia is not accessible if you've made further modifications. Remove the custom ad blocker rule(s) and the page will load as expected.