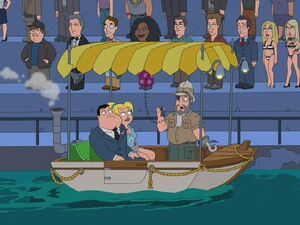 Richard Tiffany Gere is an American actor. He began acting in the 1970s, and came to prominence in 1980 for his role in the film American Gigolo, which established him as a leading man and a sex symbol. He went on to star in several hit films including An Officer and a Gentleman, Pretty Woman, Primal Fear, and Chicago, for which he won a Golden Globe Award as Best Actor, as well as a Screen Actors Guild Award as part of the Best Cast.
Richard Gere appears as one of the celebrity robots in "Tearjerker".
Ad blocker interference detected!
Wikia is a free-to-use site that makes money from advertising. We have a modified experience for viewers using ad blockers

Wikia is not accessible if you've made further modifications. Remove the custom ad blocker rule(s) and the page will load as expected.