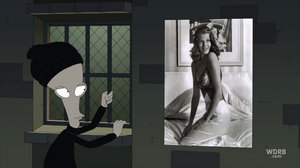 Rita Hayworth (born Margarita Carmen Cansino; October 17, 1918 – May 14, 1987) was an American dancer and film actress who achieved fame during the 1940s as one of the era's top stars. Appearing first as Rita Cansino, she agreed to change her name to Rita Hayworth and her natural dark brown hair color to dark red to attract a greater range of roles. Her appeal led to her being featured on the cover of Life magazine five times, beginning in 1940.
Roger has to sneak into prison in "Max Jets" through a hole in the prison wall covered by a poster of Rita Hayworth to assume the place of his persona Max Jets.
Ad blocker interference detected!
Wikia is a free-to-use site that makes money from advertising. We have a modified experience for viewers using ad blockers

Wikia is not accessible if you've made further modifications. Remove the custom ad blocker rule(s) and the page will load as expected.