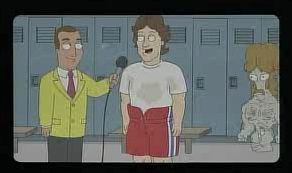 Robert Bruce "Rob" McClanahan is a former American professional ice hockey player who played 224 games in the NHL for the Buffalo Sabres, Hartford Whalers and New York Rangers between 1980 and 1983. However, he is best known for being a member of the U.S. hockey team in the 1980 Winter Olympics. The team played in what came to be known as the "Miracle on Ice" game, beating 1:33 odds in a 4-3 victory over the previously undefeated USSR.
Rob McClanahan is seen in an interview with the 1980 US Olympic Hockey Team in "The Return of the Bling". in the background, Roger is seen going through 'Roid Rage' while on steroids with the team in his persona of Chex LeMeneux. Rob appears and voices himself in the episode.
Ad blocker interference detected!
Wikia is a free-to-use site that makes money from advertising. We have a modified experience for viewers using ad blockers

Wikia is not accessible if you've made further modifications. Remove the custom ad blocker rule(s) and the page will load as expected.