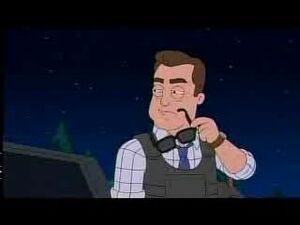 Robert Allen "Rob" Riggle, Jr. (born April 21, 1970) is an American actor and comedian. He is best known for his work as a correspondent on Comedy Central's The Daily Show from 2006 to 2008, as a cast member on Saturday Night Live from 2004–2005, and for his comedic roles in films such as The Hangover, The Lorax, 21 Jump Street and Step Brothers. As of 2011, he has co-starred in the Adult Swim comedy-action series NTSF:SD:SUV::. Beginning in September 2012, Riggle replaced Frank Caliendo for the comedy skit and prognostication portions of Fox NFL Sunday.
Rob provids the voice of Harvey Iles in "Man in the Moonbounce", Victor in "G-String Circus", Malcolm Hathaway in "A Jones for a Smith" and a voice in "The People vs. Martin Sugar".
Ad blocker interference detected!
Wikia is a free-to-use site that makes money from advertising. We have a modified experience for viewers using ad blockers

Wikia is not accessible if you've made further modifications. Remove the custom ad blocker rule(s) and the page will load as expected.